Rebounding from the sylvan charms of A Spell to Ward off the Darkness, we decided to unveil this melancholy program centered on Waldeinsamkeit, or, woodland solitude. The forest has always sparked the imagination of the lonely traveler, promising encounters with tree-dwelling spirits, ferocious bandits, treacherous plantlife, and feline royalty… During Transcedentalist times, it grew into a benevolent zone of introspection and personal growth. And today, it has gained the status of vestige signifying humanity's lost innocence.
The presented films touch upon some of these ideas in direct or oblique ways, whether through exploring the endlessly compelling shapes of the forest, the evolution of a solitary space across time, or the human's place within. The lineup features a number of new international works that innovatively utilize experimental techniques like pinhole cinematography, screenprinting, layering of multiple exposures, and timelapse; as well as a couple rarely-seen classics — and a few surprises.
Program:
Cinematographie – Philipp Fleischmann
2009, 16mm, 6m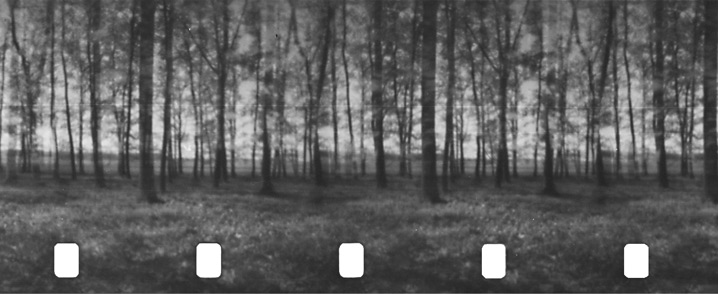 "The Austrian filmmaker Philipp Fleischmann built a circular camera obscura construction in a forest, 360 degrees around, in which the light enters through a small hole and shines on light-sensitive material. Inside the camera, he placed two 16mm filmstrips side by side: one was exposed to the world outside the camera obscura, the other to the world inside the construction. In this manner, it was possible to film both sides of the environment simultaneously. There are no frame breaks, so no frames, but only one image of a forest, so that a phenakistoscopic (spindle viewer) effect is achieved during projection. In Cinematographie, film is no longer a sequence of single frames, but rather a total image that emerges all at once. This continuous, simultaneous projection of reality leads to a cinematic standstill, although the projected image is equal to a tracking shot." –IDFA
Philipp Fleischmann was born in Lower Austria and studied at the School of Artistic Photography Friedl Kubelka and the Academy of Fine Arts Vienna. His work has been exhibited at venues including Vienna Secession, Anthology Film Archives New York, Toronto International Filmfestival and the Berlinale.
Deep Red – Esther Urlus
2012, 16mm, 7m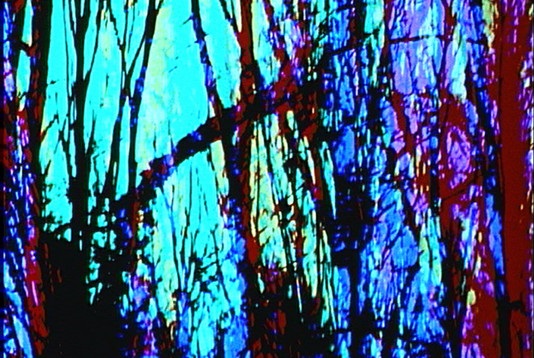 "Deep Red is an investigation into additive colour mixing on film. Handmade by a d-i-y silkscreen printing technique. Starting point are on black and white hi-con filmed trees shorn of their leaves. As if they're the reminiscent of branches seen flashing past in the night from the back seat of a car. Transformed into thirty six layer deep technicolour. Supported by Nederlands Film Fonds." (EU)
Esther URLUS (1966, Netherlands) makes films, performances and installations on 16mm, 35mm and Super-8. The DIY method is always present in her work. Urlus is co-founder and leader of the experimental WORM.filmwerkplaats in Rotterdam.
Kiri (Fog) – Takahiko Iimura
1970, 16mm, 5m
"Shot on 8mm on a mountain in Japan, the abrasive winds that drift the fog in Iimura's Kiri are so fierce we almost believe it to have grazed the filmstrip. The scratches, however, emerge as dust particles that submerge in and out of the mist." (Re-voir)
Wold Shadow – Stan Brakhage
1972, 16mm, 3m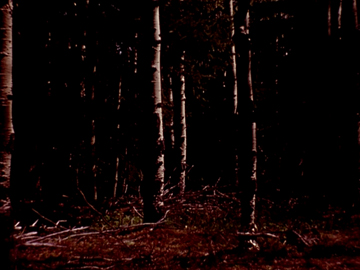 "One day, while walking in the woods, Stan Brakhage had a vision of an unaccountable anthropomorphic shadow amongst the trees. Returning to the place some time later, Brakhage could not find the shadow again. He decided, instead, to compose The Wold Shadow, a cinematic homage to the god of the forest. Brakhage returned to the woods and placed a piece of glass on an easel between the camera and the trees that he planned to film. After composing each shot, Brakhage would take a single photographic frame, paint on the glass and then shoot the glass again, and so on. There being 24 frames in a single second of projected film, it took Brakhage a full day to shoot the shimmering two and a half minute long The Wold Shadow." (Martin Rumsby, Senses of Cinema)
Mountain Home – Robert Schaller
2010, 16mm, 10m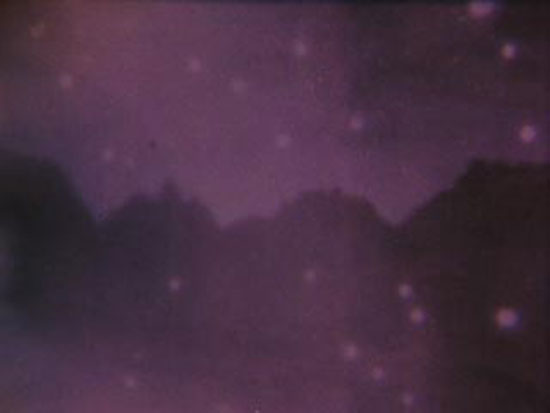 "A vision of the mountains in which I live, both gentle and harsh, domestic and wild, populated and not. Shot on a homemade pinhole camera. Edited initially in 2007, then finished and printed in 2010." (RS)
Aspect – Emily Richardson
2004, 16mm, 9m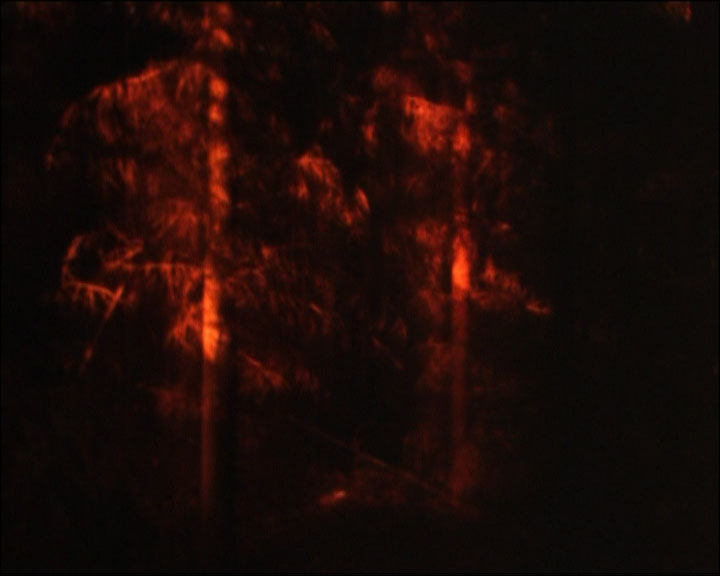 "Aspect is filmed in a forest over the period of a year. Using photographic techniques, such as time-lapse and long exposures on single film frames, the forest year is condensed into a few minutes." (EU)
"Across the surface of the forest, light, colour, shadow shift; rhythmic, kaleidoscopic. Matter and the immaterial in constant counteraction. The screen becomes a painting in animation. Ordinarily, light describes the motif. Here, the forest is almost – almost – occluded as the light that delineates the world becomes autonomous, visible; describes itself as subject. There are some very strange effects: light and shadow grow, die back; bark shimmers; branches tremble, or clouds pass above; trees shiver in the cold, or shake in threatening gesture; sunlight flickers, on and off, like an electric bulb. The portrait lives." (Mark Edwards)
Emily Richardson is a UK based artist filmmaker who creates film portraits of particular places. Her work focuses on sites in transition and covers an extraordinarily diverse range of landscapes including empty East End streets, forests, North Sea oil fields, post-war tower blocks, empty cinemas and Cold War military facilities.
Christ Church – Saint James — Stephen Broomer
2011, 16mm, 10m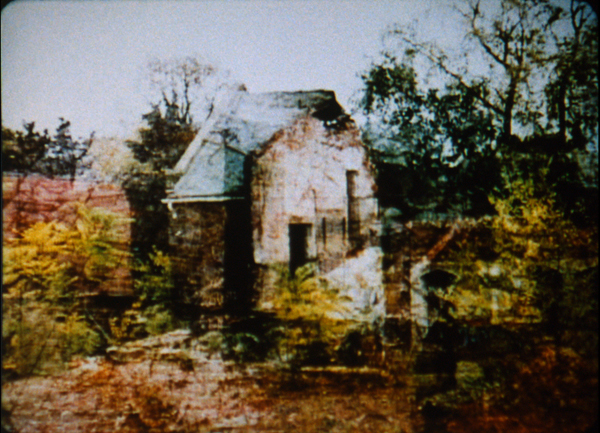 "In the spring of 1998, Christ Church – Saint James, an historic black church in Toronto's Little Italy, was destroyed by arson. All that remained were walls and a pit, and over subsequent years, the site was overtaken with graffiti. This film has taken on the layered form of the site itself: the space and its surfaces becoming tangled and multiple, the grid of a stone-filled window giving geometric form to simultaneously occurring images of concrete, nature, waste, paint, and sky." (Light Cone)
"Stephen Broomer is a Toronto-based filmmaker whose work freely transposes between Super 8, 16mm, and video. However, despite this hybrid methodology, Broomer typically finishes and exhibits his work on 16mm. In addition to his prolific filmmaking, Broomer has restored John Hofsess' neglected underground hit, Palace of Pleasure (1966/67) and many other experimental films produced by McMaster University's Film Board in the 1960s and 70s. His book exploring the history of the McMaster Film Board is coming soon. Broomer is also a member of Toronto's Loop Collective, an organization of film and video artists dedicated to producing and exhibiting experimental artworks." (Clint Enns, Incite)
Sunhopsoon — Andrej Zdravič
1976, 16mm, 8m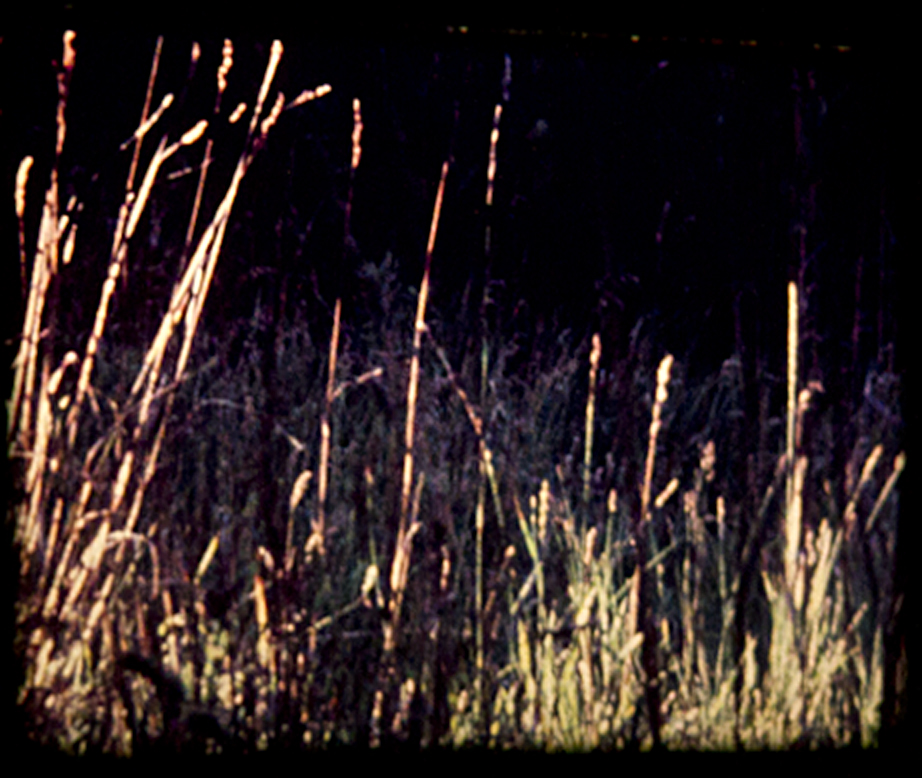 "Sunhopsoon was the name of a now-defunct vegetable store in New York's Chinatown. The rhythm of the words fit perfectly with my film."
"Sunhopsoon originates from having seen, one fine afternoon, light magically flickering on trees and bushes, realizing only later that this dance was being created by a passing freight train. I spent five months waiting and searching along the tracks for it to happen again. Persistence and activity generated the form of the film. The soundtrack is a collage of train rhythms and squeaks, but we never see the train itself." (AZ)
Andrej Zdravič (born in 1952, Ljubljana) is an independent filmmaker, sound and media artist. He was educated in Ljubljana, Algiers and Buffalo, receiving his BA (1975) and MA Degrees (1980) in Media Studies at the State University of New York, Buffalo. Zdravič has taught at the University of Wisconsin–Milwaukee and San Francisco State University and has been a Visiting Filmmaker at more than 30 others, including Stanford University, Royal College of Art London, Malmö University College, University College Falmouth in Cornwall, UK and the Academy of Fine Arts, Ljubljana.
En el Movimiento del Paisaje (In Landscape's Movement) — Lois Patiño
2012, HD video, 10m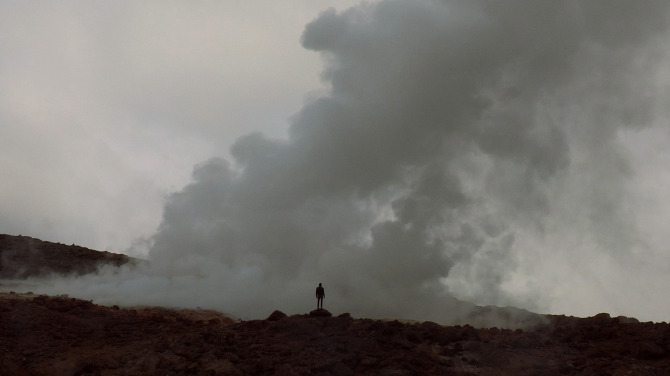 "The vastness, intimately born into a feeling of ecstasy, dissolves and absorbs somehow the sensible world" (Gaston Bachelard)
"The human figure, immobile, is situated within a landscape that develops facing towards him, surrounding. It is not a static environment, landscape is discovered in their subtle changes: the shadow of smoke on the ground, the mist revealing a mountain, a swirling in the sand … The man, with his back to us and paralyzed, invites us to contemplate in intimacy and in detail, the processes of change in the natural environment. The camera also stands still, it is the landscape that moves." (LP)
Lois Patiño was born in Vigo (Spain) in 1983. He combined his Psychology studies in the Complutense University of Madrid with cinema studies at TAI School. He followed his cinema education at NYFA, in New York and with the Master in Cinema Documentary at Pompeu Fabra University in Barcelona. He has developed courses of videocreation in the UdK of Berlin, and in different ateliers with artist and filmmakers such as Joan Jonas, Donald Kuspit, Pedro Costa, Víctor Erice, José Luis Guerín or Daniel Canogar.
---
About Balagan
Balagan is a monthly screening series run and curated by local filmmakers Alla Kovgan, Jeff Silva, Stefan Grabowski and Mariya Nikiforova.
---
BUY TICKETS:
Click a showtime to purchase tickets:


Thursday, April 17 at 7:30 PM

$10 Adults/$8 Members, Students and Seniors. Brattle passes not accepted.